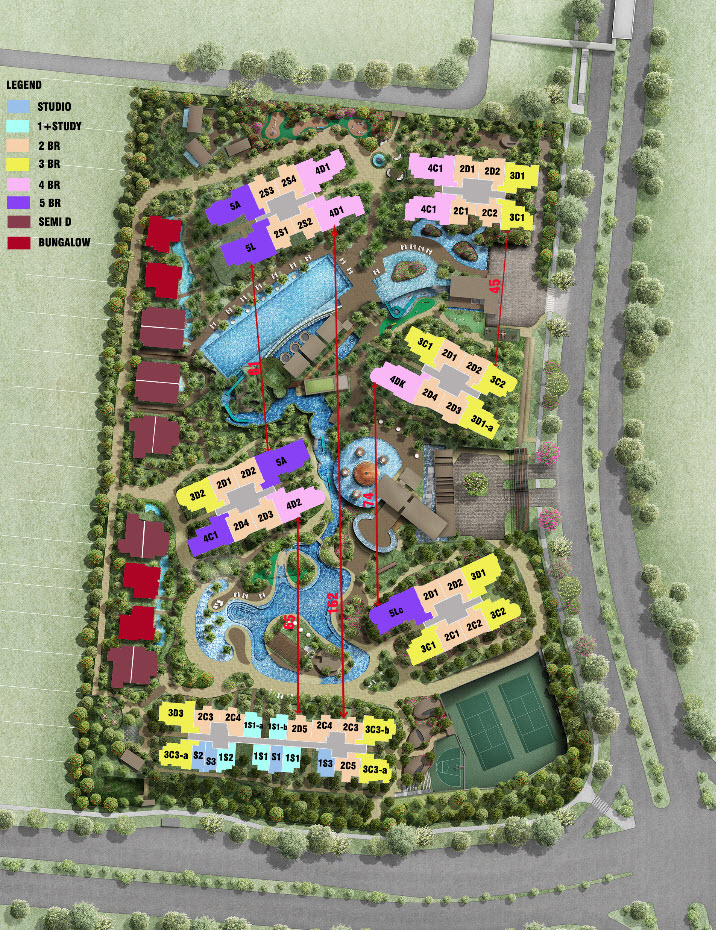 | | | |
| --- | --- | --- |
| 1. 50m Lap Pool | 41. Yoga Meditation | 81. Island Dining |
| 2. Water Lounges | 42. Meditation Walk | 82. Island Changing Suite |
| 3. Sun Deck | 43. Yoga Deck | 83. Island Banquet |
| 4. Adventure Fitness Park | 44. Stretch Fit Deck | 84. Banquet Lawn |
| 5. Kiddo Fitness Park | 45. Forest Spa Villa | 85. Banquet Grill |
| 6. El-do Fitness Park | 46. Forest Spa Jacuzzi | 86. Banquet Al'Fresco |
| 7. Swirl & Splash | 47. Hilltop Spa Villa | 87. Banquet Deck |
| 8. Hype & Glide | 48. Hilltop Spa Jacuzzi | 88. Banquet Deck |
| 9. Drift & Float | 49. Wellness Pavilion | 89. Party Deck |
| 10. Kiddo Water Park | 50. Cabana | 90. Lantern Lounge |
| 11. Kiddo Playground | 51. Sunrise Bar | 91. Function Room 1 |
| 12. Kiddo Pool | 52. Sunrise Lounge | 92. Function Room 2 |
| 13. Play Deck | 53. Aqua Breeze Walk | 93. Indoor Movie Theatrette 1 |
| 14. Recreational Lounge | 54. Grand Waterfall | 94. Indoor Movie Theatrette 2 |
| 15. Boxing Rings | 5S. Reading Lounge | 95. Indoor Movie Theatrette 3 |
| 16. Gym | 56. Chinese Tea Pavilion | 96. Jamming Room |
| 17. Aqua Gym | 57. Tea Garden | 97. Handicapped Toilet |
| 18. Green Jogging Track | 58. Jumbo Chess | 98. Power Room |
| 19. Uphill Trekking | 59. Multi Purpose Court | 99. Fitness Changing Room |
| 20. Cycling Trail | 60. Outdoor Theatrette | 100. Steam Room |
| 21. Lazy Jet Pool | 61. Rain Forest Deck | 101. Fern Garden |
| 22. Laze Deck | 62. Floating Island/ Deck | 102. Putting Green |
| 23. Cascading Pool | 63. Fern Garden Deck | 103. Fern Boulevard |
| 24. Fun Pool | 64. Sun Lawn | 104. Taichi Lawn |
| 25. 40m Lap Pool | 65. Cascading Terrace | 105. Tree of Light |
| 26. Splash Pool | 66. Lantern Pavilion/Grand Lantern | 106. Italran Dining |
| 27. Splash Deck | 67. Lantern of Joy | 107. Japanese Dining |
| 28. Jumping Jet | 68. Lantern of Bliss | 108. Waterfall Stairway |
| 29. Flying Fox | 69. Lantern of Wealth | 109. Arrival Lounge |
| 30. Mist Garden | 70. Lantern of Harmony | 110. Arrival Lobby |
| 31. Tennis Court | 71. Jacuzzi | 111. Arrival Plaza |
| 32. Tranquil Waterfall (Secret Garden) | 72. Hilltop BBQ | 112. Lift @ Arrival Lobby |
| 33. Secret Garden | 73. Garden BBQ | 113. Veranda Lounge |
| 34. Private Lounge 1/2/3 | 74. Island BBQ | 114. Retail Shop |
| 35. Infinity Pool | 75. Fern Trail | 115. Childcare Centre |
| 36. Infinity Cove | 76. Ecological Trail | 116. Public Carparko@ CCC |
| 37. Infinity Deck | 77. Rainforest Broadwalk | 117. Hilltop Plaza |
| 38. Chill Out Pool | 78. Sensory Trail | 118. Boulevard Deck |
| 39. Chill Out Lawn | 79. Ecological Pond | 119. Fern Deck |
| 40. Hammcok Heaven | 80. Lotus Pond | |
High Park Residences Fernvale
A whole range of amenities is available at High Park Residences. Please see the below site plan. Various facilities including a swimming pool, fitness station, tennis court, indoor gym and BBQ area awaits you. A truly luxurious resort lifestyle for you and your family at the Punggol / Sengkang Area.
Fernvale Sengkang Condo by CEL
The development overlooks the luxurious forest area in Fernvale. Please kindly look at the location. An exclusive and serene living environment awaits you at High Park Residences.
– Fitness Classes (Eg. Aerobics, Yoga, Kick Boxing, Pilates, etc)
– Cooking Lessons (Eg. Baking courses, Cuisine, etc)
– Aqua-related Lessons conducted at the development (Eg. Aqua Aerobics, Swimming Lessons, etc)
– Tennis Lessons for your family
– Violin Lessons for Kids
High Park
*For first 2 years or until MCST is formed, whichever is earlier